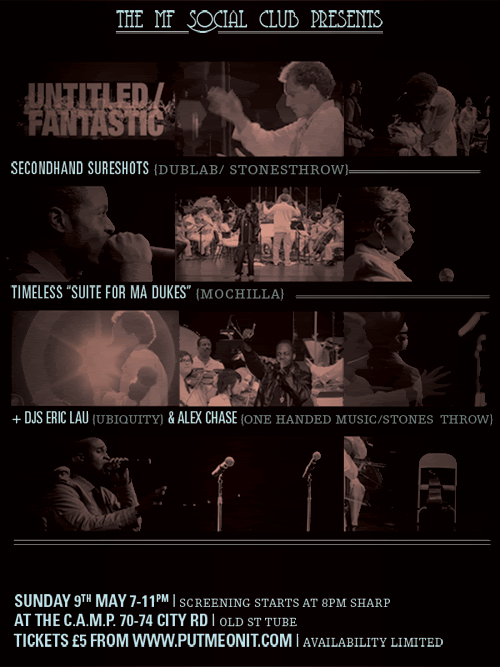 The M.F. Social Club Presents...
Two independent music documentaries from LA:
Secondhand Sureshots & Timeless - Suite for Ma Dukes
+ DJ sets from Alex Chase & Eric Lau
Sunday 9th May 7-11pm
(screening starts at 8pm)
@ The C.A.M.P.
London, EC1Y 2BJ (Old St tube)
Tickets £5 in advance
GET TICKETS
Secondhand Sureshots (Dublab/ Stones Throw)
Daedelus, Nobody, J.Rocc & Ras G on an experimental sound recycling safari...
Timeless - Suite for Ma Dukes (Mochilla)
One third of the Timeless documentaries, Suite for Ma Dukes sees the music of James 'Dilla' Yancey reworked by Miguel Atwood-Ferguson for a 60 piece live orchestra. Guests include Maureen 'Ma Dukes' Yancey, Bilal, Dwele, Amp Fiddler, Illa J, Shafiq Husayn, Talib Kweli, Karriem Riggins & more.
*BROUGHT TO YOU BY PUT ME ON IT*